Ave Caesar "Never Say Never" -litter
We have been carrying plans to bring these puppies into the world since 2018, in our kennel, one beautiful summer, puppies of fortune and puppies of the "next generation" were growing up. the dream to unite the descendants of the most worthy Ridgebacks was so strong that we retained the rights to produce several individuals of both of these litters. But in the end, the combination turned out only once. It's them! puppies of the litter "never say never". The litter got its name on the occasion that we were ready to close our breeding completely and the fact that fate gave us this chance was a miracle for us.
we are very grateful to the owners of Neema and Maxi for trusting us and giving us this unique opportunity to come to our dreams.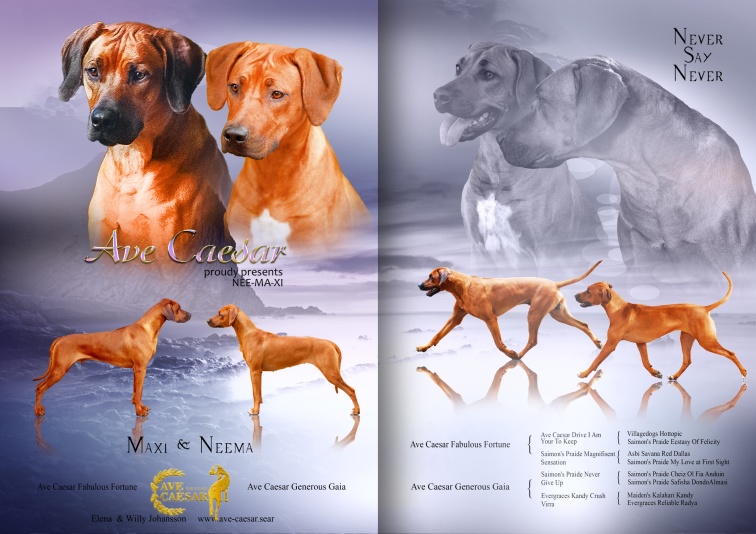 On August 19, 10 puppies (5/5) were born, all with beautiful ridges, but the last girl with a liver nose was no longer breathing, unfortunately it was not possible to bring her back to life.
Again, I thank Christina, our midwife, for her help. The ninth puppy was stuck in the birth canal without a bladder for a long time and Christina came on an urgent SOS call and saved us from a caesarean section.
As a result, we are 9 beautiful even and two bitches with liver nose. Neema is very smart and she did her best. She is friendly that all adult ridgejacks can visit us and she is very caring, all the puppies are well-fed and strong.
Ave Caesar Ave Caesar Fabolous Fotrune *MAXI*