=Dagbok= (in form of blog. Older news below)
2016
10-11/12. National and International shows Kassel. Germany.
The last 2 shows in this prosperous 2016 year (Kassel x 2 (nat and international) were as successful as the whole show season was for us..
1. Our overseas princess RUBI (NO JV-16 Elangeni Friends in Hi Places 9 months old.) won class. CW and got her first junior CAC. (Judge Timmy U. Ralfe ). Handled by Rubi loving owner Willy Johansson . Breeders Emma Friedland & Linda Friedland. Congratulations!
And the second day Rubi was Ex-2 in junior class . (Judge : Monika Pehr.)
Royce (Ave Caesar Drive Im Your to Keep) - CW x 2 . Best junior of Breed both days and got his two jCAC.
His mother Lisi (C.I.B EUW-2016 Belgian Winner-2016 Benilux Winner-2016 DK UCH NO UCH RS CH SE UCH NORD CH SE VCH RU CH CZ CH Saimons Praide Ecstasy of Felicity for Ave Caesar Breeder Oksana Serova ) showed sytable results both days:
Nat show CW in champion class and her 4th CAC in Germany!
International - CW Best female CACIB and BOS .
With the 5th CAC in Germany Lisi finished her German champion.
We are more then HAPPY! Ring was too small for such a mover as Lisi is so she started her new was to express her liveliness , she jumped high! Lisi LOVE to be in ring with Dasha Chernaya da Silva ! Playful and full of entusiasm! We realy enjoeyd her new way))). Thank you very much Dasha for handling. You made a major contribution to this success! Thank you friends for all your warm words and congratulations wich we recived before we returned home to Sweden)).
Ave Caesar Driving me onwards just turned 1 year, had a super show at IDS Lovanium.
She won all her three shows in Belgium and is now Belgian Youth Champion! Congratulations to the owner/handler Marjolaine!
20/11.Norwegian Winner show -2016
Royce got only Very Good in junior class. His Mother Lisi (Saimon's Praide Ecstasy of Felicity exelent 3 With CQ (Champion class) And our young femade RUBI (Elangeni Friends in Hi Places) won strong junior class dispite she was the youngest ( only 3 days after moved to junior class) WITH CQ (Champion quality) and got her first title JUNOR NORWIGIAN WINNER!. Our huge thanks and congrats to Rubi's breeders Emma Linda And Daryl Friedland.
1/11. Caesar approved the odor sample of eucalyptus.
Caesar ( Ave Caesar Destiny Calls) has completed an approved odor sample of eucalyptus and thus begin to compete in Nosework 1. Nosework will be an official competition year 2017 SKK.
You can compete in three different levels Nosework. NW1: Euakalyptus NW 2: Bay leaves NW 3: Lavender. It requires approval odor sample for each scent to get the boot at a competition.
Congratulations to Annelie Rolf and Caesar!
30 okt. Duba became Belgian Youth Champion!
28/10. D-litter Birthday!
1. Enzo; 2. Sheeba; 3. Caesar; 4. Shaggy; 5. Azlan; 6. Moyo; 7. Diesel; 8. Simba; 9. Duba; 10. Tambo; 11. Aria; 12. Royce; 13. Nala.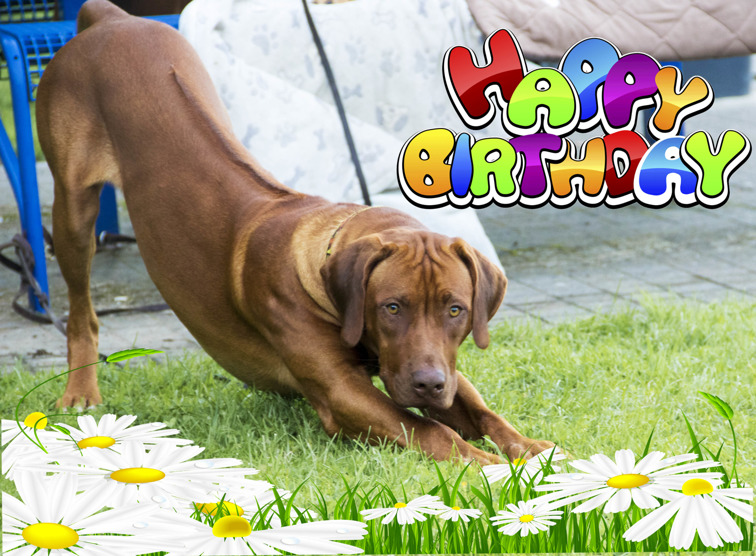 8/10. Royce graduated his school
Royce received a diploma and a lot of praise from the teacher. On completion of the curriculum, students have the day "nose work". Rubi worked with her nose too))).
1/10. Duba became best junior in breed!
Stacy (Ave Caesar Born for Fame) dispite she is stil the beginer in a show ring took 2nd place in Open Class with CQ (Champion Quality) ann Royce was 4d in junior class ex. Judge L. Bachurzewska
17/9. Royce rocked the ring.
We had a great achievements in Denmark to Ave Caesar RRs family. Stacy ( Born for fame) won the 4ths place in a strong open class with excellent description of the Judge Marie Gadolin ! Congratulations to Katriina Öberg!!! Royce( Drive I'm your to keep) won junior class with CQ and best male and BOB.
next day Rubi - very promissing ; Lisi- second in Champion class and 4th best bitch. Royce- very good in junior class.
10/9. Club show. Rubi is the best!
Our dog took part in a speciality show Eöstånga (Sweden) judge Wilfried Peper. Rubi (Elangeni Friends in Hi Places) - Best puppy in breed!!! Happy!!! Royce (Ave Casar Drive! Im your to keep) : 3d in Junior class and best liver Ridgeback. Lisi (Saimon's Pride ecstasy of Felcity) 2:a in champion class.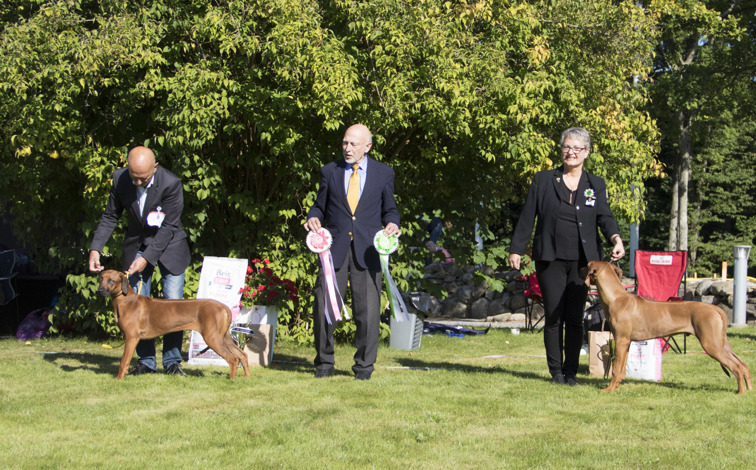 3-4/9. One more successful weekend.
Two of Kandy's progeny has got their CH titlels. Daughter in Norway CAWA (N Ch Shavano's Proud to be Cawa) and next day Kandy's son in Netherlands AMON (Kuanzia Kani Ahadi Kwangu). Congratulations to happy owners/ breeders!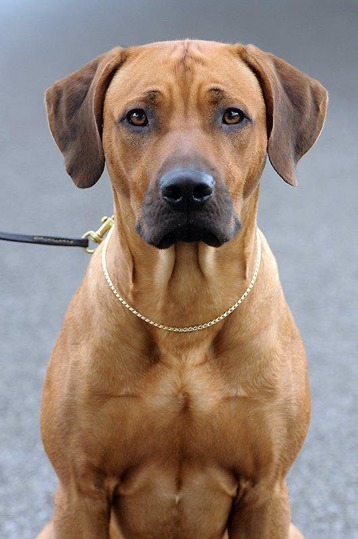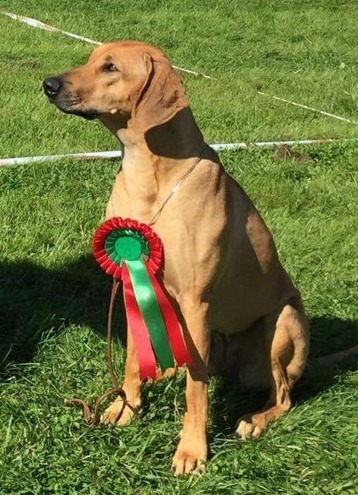 26/8. EDS-2016 (Brussel).
We visited Eurodogshow-2016. Our results: Rubi (Elangeni Friends In High Places) very promising. Royce (Ave Caesar Drive I'm your to keep excelent 3 (of 18 juniors). Lisi (Saimon's Praide Ecstasy of Felicity) CW (of 30 champion bitches) CAC/ CACIB Europa Winner-2016 & Benilux Winner. The judges were Małgorzata Wieremiejczyk-Wierzchowska ( females) and Luís Pinto Teixeira (males/bob)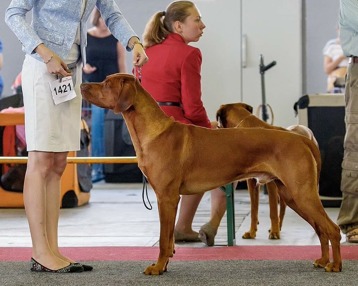 In weather like today is better to be a bear and sleep in the den. But thanksto Willy my 4 RRs went 2 big walks in spite of rein and wind. Inclusive ROYCE.
28 Jan. 3 months Birthday D-litter
Our dear puppies and your happy families! Hope you will celebrate today and send your BD pictures to us! Royce and his pach send you warm greetings!!!
We are happy to show you the new member of our family. Lisi x Nelson. DOB 28/10-15.We hope to get many happy and healthy years together. Welcome ROYCE!