=Dagbok= (in form of blog. Older news below)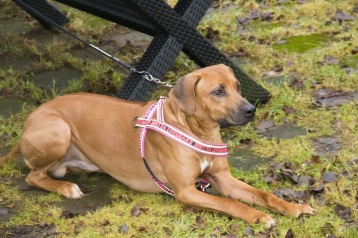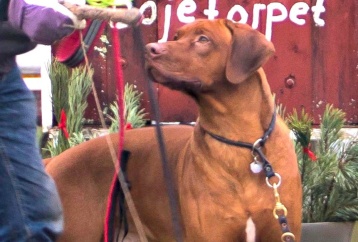 4/2. Duba got her new ch titel jCH of Netherland.
29/1. Rubi is Best of breed at NDS Cartaxo
22/1. Blood tracking training for "Ave +" Ridgebacks
We had a great time todat at Bojetorpet tracking station. We were 5 familis and we called our "students" the "second generation" : Ludde (Kandy's son) Royce (Lisi's son) Zicco (Charenas son) Niya and Stacy (Chitas daughters) and Niyas sister who is not Ave but a great member of training team beautiful Tiyo (Emoyeni's Emoyeni's Dot Titiyo).
Our Royce has got his WWC (Working Class Certificate) and the judge said he is very very promising and worked today as proffecional!
Thanks everybody for today! It was nice to see you all and your wonderful Ridgebacks!
December 2016 Lisi was insemeneted so we are expecting her progeni with the male we always loved and respected S10248/2003 Emoyeni's Grand Zuberi (aka LEX). Do you want to know more visit E-litter page and you can also contact us as well Lex owner Tina Gavling to get more info about parents and plans.
14/1. Rubi at Porto Winner show-17 & Porto IDS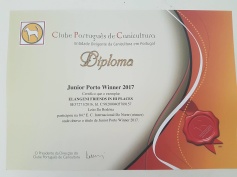 International Dogshow in Porto, (Portugal ) Poro Winner 2017 (the 14/1) our Rubi * Elangeni Friends in Hi Places* won BOB Junior and got her new titel Junior Porto Winner-2017. (under judge Rui Oliveira).
Next day (the 15/1) Rubi repeated her success and got the oficial CQ what she need for titel jCH.
A great start for new year. Two Ave Ridgebacks took part in a biggest shows in Scandinavien. Here are the results:
day1: Royce ( Drive! I m your to keep ) CW and Best of breed junior) Nova ( Ave Caesar Center of my Universe) CW with CQ. Owner: Katarina Mattsson (Judge: Arvid Göransson)
day 2: Royce EX with CQ ; Junior class winner and BOS junior; Cruft Qual. Then 5th best make with his first swedish CAC. Nova again Intermedia class winner with the CQ. (Judge: BO WALLIN)