=Dagbok= (in form of blog. Older news below)
Livet är inte alltid som man önskar sig, vi alla kunde uppleva detta under dessa svåra COVID-19 tider.
En av valparna från J-kullen letar efter ett nytt hem. Eftersom hans lillhusse har fått en allergisk reaktion. Vi tycker synd om valpen och vi är ledsna för dess nuvarande ägare med som har hunnit att trivas med honom under 6 dagar som dem spenderat tillsammans. Men valpen kommer att behöva flytta så fort det går.
Hans namn är Garnet, (som betyder Granat- mineral ).
Han var den som hittat hem FÖRST i kullen. Hans första familjen gav honom namn Tyson. Detta var en svensk familj som bor permanent i Berlin . Dem blev i kär och bestämde sig när han inte var mer än en vecka gammal. Men gränserna mellan länderna började stängas under valparnas uppväxt, och tyvärr hittade vi ingen möjlighet för honom att återförenas med dem. Jag vill verkligen inte tro att han är en av de som brukar att ha otur. Detta händer med jämna mellanrum just med de röda halsband, tyvärr. Min mamma märkte detta. Men dem flesta «röda» historier sluttades väl lycklig i alla fall. Så jag hoppas att den familj som vi letar just nu åt Garnet blir den sista tillflyktsorten för honom.
Han är den enda från kullen som har fel ridge. Men det gjorde honom inte mindre populär. Det finns många brev i min brevlåda om honom. Tyvärr kan vi inte träffas så ofta som tidigare med eventuella köpare. Att föra långa samtal och leda potentiella köpare till promenader med våra vuxna hundar var ett måste speciell för dom som skaffar sin första RR Men nu känner vi skilnaden. Nu är vår uppgift att välja rätt ägare virtuellt. Jag vill verkligen inte sätta Willy i riskzonen och åka till Stockholm för att hämta valpen från nuvarande ägare, men om vi inte hittar rätt lösning till måndag, måste du göra det. Valpen inte behöver byta ägare fler gånger!
29/3. Jewellery puppies have moved to their new homes
26/3. Our last days with the puppies
iframe width="560" height="315" src="https://www.youtube.com/embed/uXnEm6HgvCs" frameborder="0" allow="accelerometer; autoplay; encrypted-media; gyroscope; picture-in-picture" allowfullscreen>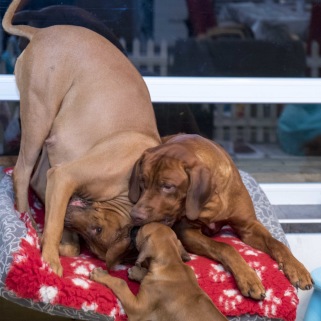 This is the dog of my dreams! And, despite the fact that I always considered myself a "male's mom", Lisi turned my attitude towards bitches. She has EVERYTHING that the ridgeback owner can dream of! Her mind and ingenuity, her cheerful disposition, her ability to work, her unreal beauty, her maternal qualities and her health, her willingness to accept new challenges ALL is in her and even a little more. I bought this dog at the call of my heart. I didn't choose the stack, but simply, when walking in the forest with Kandy and Jack, I saw on the net a photo of a brown nose from Natalia Alferova's timeline on FB, who was unknown to me at that time, who owned Lisi's mother Bella and who had Saimon's Pride litter of exclusively liver puppies in her house. Yes, Willy and I sometimes talked about how it would be nice to experience the liver, but in fact we did not seriously prepare for it and did not make efforts to find this liver, and suddenly, just from a photo of the nose on the sofa, not yet knowing her origin and about her impeccable structure, my heart sank: this is my dog! And these are exactly the words that I say to her when I say love to her: MY DOG!You ARE MY dog! I am happy and proud that I shared my life with Lisi and count the days before she returned from a business trip to Kerstin with a mission to save Jack's mood.
Yes, I admit, there was another reason, we wanted to free ourselves temporarily in order to carry out the operation to rescue Willy abroad. She became the first whom we temporarily identified and others stood in line, too. But, due to the fact that all movements around the world are temporarily not relevant, Lis finally comes back home. Waiting for you, my dog, and counting the days before our reunion!
12/3. We expecting Nash puppies in Germany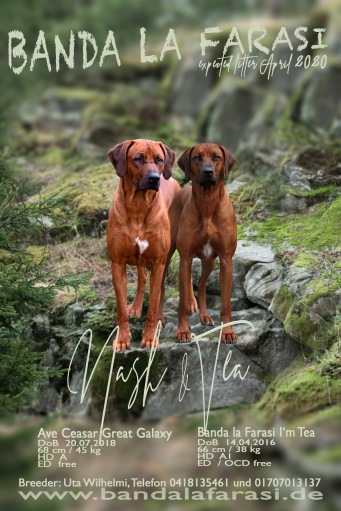 We are happy to report that our Nash will be Sir to Uta Wilhelmi's next litter ( april 2020) at kennel Banda La Farasi out of beautiful female * TEA* aka Banda La Farasi I'm Tea. It's personally noteworthy to me that Tea's previous litter was afte Sonny who is grandson to Kandy as well. Information about this can be found on the Banda La Farasi website. This beautiful annons made by Heike Jäger using the motives of our beautiful area, where the happy mating took place
Time flies fast, and dog's time even faster. Yesterday we were proud of the direct descendants of our Kandy, and today it's time to be proud of their descendantsmy. This year at the biggest show in the world CRUFT's the best dog and reserve the best both are son's of Kandy's daughter Kiruna <3
Many congratulations to Stefanie Radke, the owner of Sonny (Ndoki Highlander) to Petra Mickael Bossard's team the owner of the George (Ndoki Gentle George) and the biggest congratulations to our very best Claudia Körner THE BREEDER of Ndoki's beautiful RRs
20/2. Jeweller puppies are 20 days old
it's very exciting to have puppies from a couple who are both your own RRs and which you raised from puppyhood. This is family photo of us with the whole litter. You can read about them at their ownd page. Photos courtesy of Heike Jäger.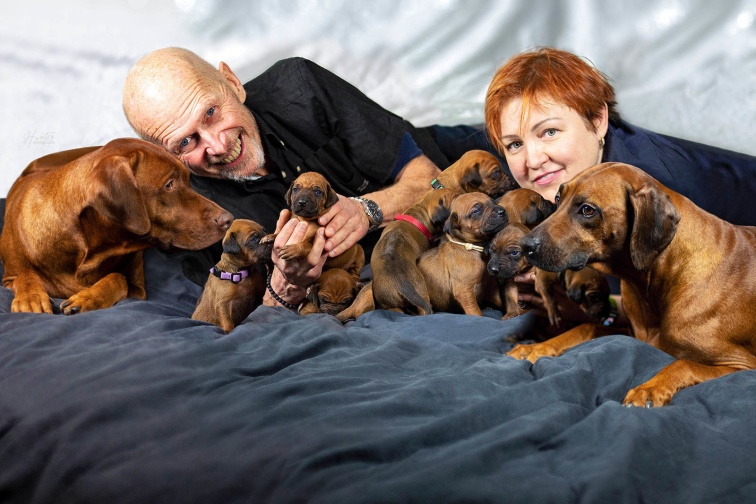 17/2. Rubi's Birthday today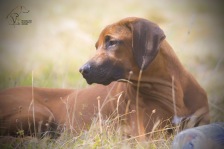 happy birthday to you my precious girl RUBI!
You flew from faraway Australia and took with you so much joy and positive emotions you brought into our lives! You gave us so many reasons for pride ! You made fus riends with the extraordinary Friedland family! You gave birth 8 wonderful jewelry puppies! Thank you, our gem, we have so many years together in future and hope they will be as happy as these 4!!
15/2. Norton is bloodtracking champion!
2/2. Jewellery litter was born
NOW! on this magic mirror date 0202-2020
8 charming puppies were born (of which 4 females and 4 males). Our long-awaited jewelry litter in which parents are an inseparable couple ! Our " Rough and Tough" . We are extreemly happy! Rubi is doing a great job as a mom, and takes perfect care of her little ones. Many thanks to my breeders Linda and Emma Friedland for such a treasure as Rubi is! Thank you Kristina Rense for your inestimable contribution during delivery!
Please join us in welcoming Mr Red Garnet, Miss Purple Amethyst, Miss Blue Sapphire, Mr White Jade, Miss Green Emerald, Mr MR Platinum, Miss Orange Turmarine, Mr Yellow Topaz! Seven are show ridged and one has pet ridge. All are strong and even.
Thank you all for attantion to this beautiful litter but we have no possibility to answer your all letter. Don't be sorry we need time.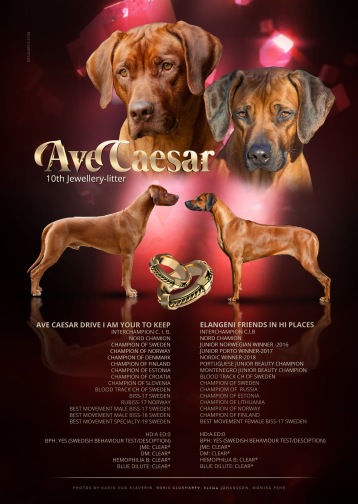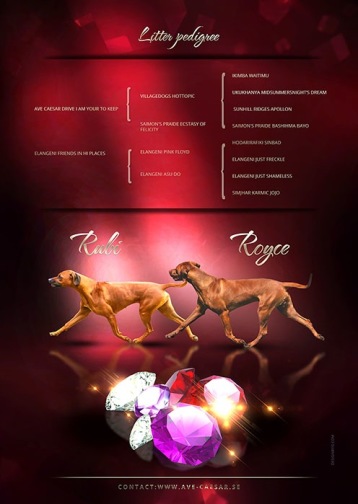 1/2.Lillie is bloodtracking champion!
19/1. Bloodtracking meeting for AVE - ridgebacks.
AVE CAESAR GANYMEDES * Eros* Approved apptitude test
AVE CAESAR HARMONY MAKER *Lex* 1st priz in open class track
AVE CAESAR IN HARMONY WITH LOVE *Norton* Approved apptitude test
AVE CAESAR EVER GRACED HARMONY *Mony* 1st priz in open class track
AVE CAESAR FORTUNATE STAR *Lillie* 1st priz in open class track
AVE CAESAR SWEET HARMONY * Sweety*Approved apptitude test
SAIMON'SPRAIDE WELCOMETO AVE CAESAR *Wella" 1st priz in open class track
11/1. Bloodtracking meeting for AVE puppies.
We had a very nice re-union with bloodtracking tests at Bojetorpet!
Thank you our dear Ave-owners families all of you for coming and making this day very happy!
Both judges Inger and Roger were really impressed with how good all the puppies were in the track! Congratulations to the prowd owners and us!
Adult RR on official tracks got:
1. Lillie (Ave Caesar Fortunate Star) 1st in open track
2. Nash (Ave Caesar Great Galaxy) 1st in open track
3. Lex (Ave Caesar Harmony Maker aptitude test!
Our best Kerstin Larsson helped and come with two of our adult RRs

All the ridgebacks showed their best sides and they were rewarded with fantastic fun play with each other.