20/2. Jeweller puppies are 20 days old
it's very exciting to have puppies from a couple who are both your own RRs and which you raised from puppyhood. This is family photo of us with the whole litter. You can read about them at their ownd page. Photos courtesy of Heike Jäger.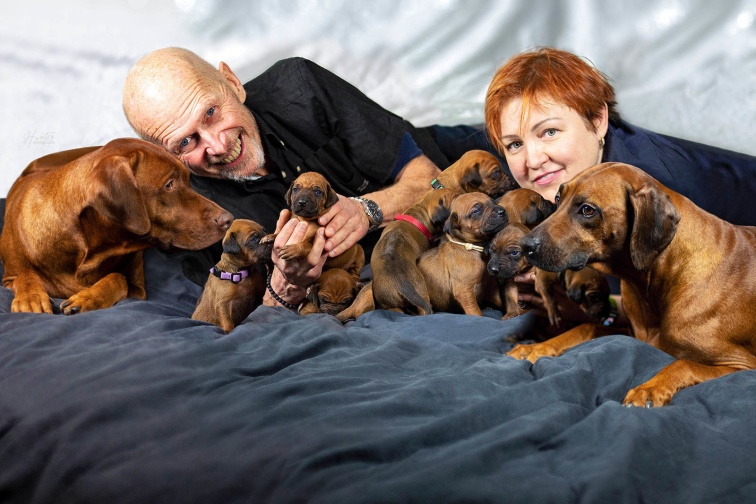 17/2. Rubi's Birthday today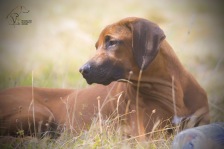 happy birthday to you my precious girl RUBI!
You flew from faraway Australia and took with you so much joy and positive emotions you brought into our lives! You gave us so many reasons for pride ! You made fus riends with the extraordinary Friedland family! You gave birth 8 wonderful jewelry puppies! Thank you, our gem, we have so many years together in future and hope they will be as happy as these 4!!
15/2. Norton is bloodtracking champion!
2/2. Jewellery litter was born
NOW! on this magic mirror date 0202-2020
8 charming puppies were born (of which 4 females and 4 males). Our long-awaited jewelry litter in which parents are an inseparable couple ! Our " Rough and Tough" . We are extreemly happy! Rubi is doing a great job as a mom, and takes perfect care of her little ones. Many thanks to my breeders Linda and Emma Friedland for such a treasure as Rubi is! Thank you Kristina Rense for your inestimable contribution during delivery!
Please join us in welcoming Mr Red Garnet, Miss Purple Amethyst, Miss Blue Sapphire, Mr White Jade, Miss Green Emerald, Mr MR Platinum, Miss Orange Turmarine, Mr Yellow Topaz! Seven are show ridged and one has pet ridge. All are strong and even.
Thank you all for attantion to this beautiful litter but we have no possibility to answer your all letter. Don't be sorry we need time.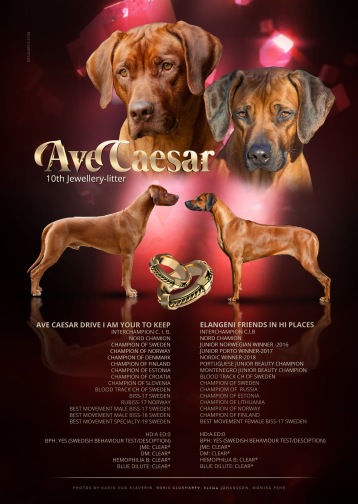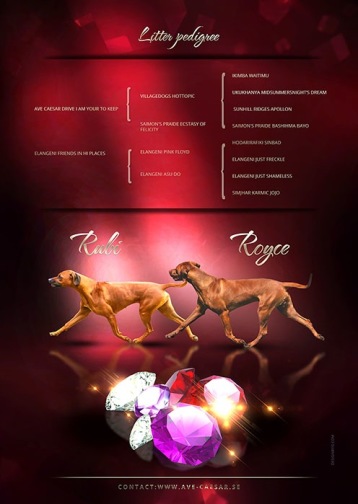 1/2.Lillie is bloodtracking champion!
19/1. Bloodtracking meeting for AVE - ridgebacks.
AVE CAESAR GANYMEDES * Eros* Approved apptitude test
AVE CAESAR HARMONY MAKER *Lex* 1st priz in open class track
AVE CAESAR IN HARMONY WITH LOVE *Norton* Approved apptitude test
AVE CAESAR EVER GRACED HARMONY *Mony* 1st priz in open class track
AVE CAESAR FORTUNATE STAR *Lillie* 1st priz in open class track
AVE CAESAR SWEET HARMONY * Sweety*Approved apptitude test
SAIMON'SPRAIDE WELCOMETO AVE CAESAR *Wella" 1st priz in open class track
11/1. Bloodtracking meeting for AVE puppies.
We had a very nice re-union with bloodtracking tests at Bojetorpet!
Thank you our dear Ave-owners families all of you for coming and making this day very happy!
Both judges Inger and Roger were really impressed with how good all the puppies were in the track! Congratulations to the prowd owners and us!
Adult RR on official tracks got:
1. Lillie (Ave Caesar Fortunate Star) 1st in open track
2. Nash (Ave Caesar Great Galaxy) 1st in open track
3. Lex (Ave Caesar Harmony Maker aptitude test!
Our best Kerstin Larsson helped and come with two of our adult RRs

All the ridgebacks showed their best sides and they were rewarded with fantastic fun play with each other.