Ave Caesar I-litter presentation.
23d of August Nova gave birth 11 puppies 9 males and 2 females:
7 standard (5 males and 2 females) and 4 pet males you can find "Imagine"-litter diary here !
muli champion multi winner
Makao Line Atuin Art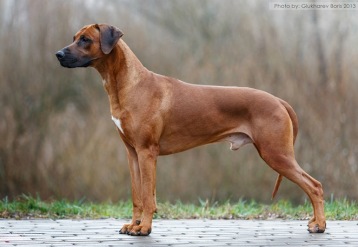 Sire: CH Makao Ngumo Namdi
Dam : Ursula Grand
HD-A/A, ED-0/0,
DM-N/N
Delute : D/D (free)
Dental status: Correct bite and full dentation
dob. 28.02.2011 (10 pups 3 males/7 females)
Height: 69cm
Weight: 55kg
Breeder: Julia Miakotkina, Kennel Makao Line
Owner: Julia Miakotkina, Kennel Makao Line
C.I.B interchampion
- Junior World Champion 2012
- BOB World Championship 2012
- Best dog of 2013 on the show "Golden Collar"
- Winner of "Russia-2013"
- Champion of "Eurasia-2014"
- Junior Champion of Russia
- Champion of Russia
- Champion RKF
- Champion of Sweden
- Champion of Luxembourg
- Champion of Slovenia
- Champion of Lithuania
- Champion of Romania
- Champion of Ukraine
- Cand. to the champions of Poland
- Cand. to Champions of Lithuania
- Best In Show winner
EUW-2015
WW-2016
vEUW-2019
Sire: Ch Kenneback Final Answer
Dam: Ch Tina Trading Charena
HD:B, ED-0/0,
JME: FREE;
Delute free;
DM: carier.
Approved apptitude test june 2018
Dental status: Correct bite and full dentation
dob. 9.04.2015
Height: 64cm
Weight: 37 kg
Breeder: Elena & Willy Johansson, Kennel Ave Caesar
Owner: Katarina Matsson.
Breedings rights (1 litter) Kennel Ave Caesar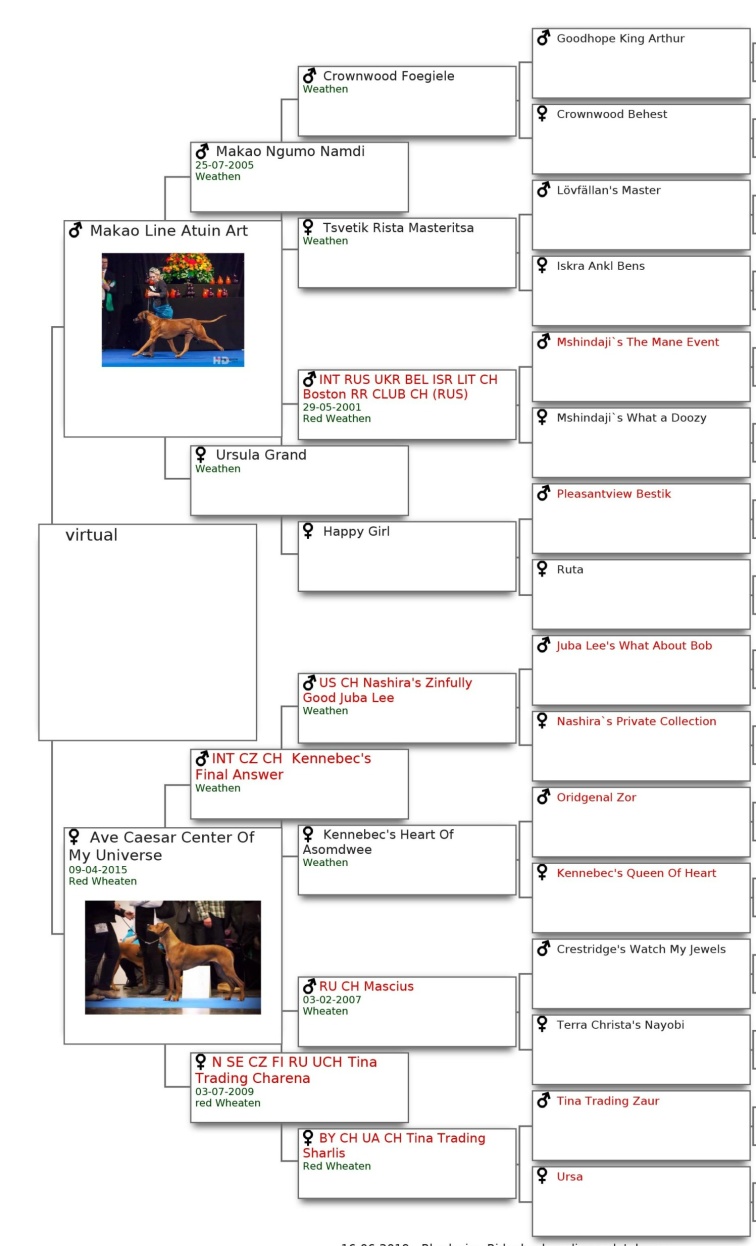 More about parents to our I-liter:
We know Atuin since his junior age. We had the honor of witnessing how he received the BOB title at the World Championships in Salzburg and we even came to root for him in the group. Atuin was great at every age! Our last meeting took place in June 2019 just when he came to the mating with Nova and we took part in his photo session. now he is a veteran - Noble, with the king's manners, but joyful as a puppy, if he is offered games.
Athletic agile and handsome male and the father of many worthy descendants, he won our hearts.
Thank you Julia Miakotkina/MakaoLine -kennel for let us use your fantastic Atuin for our breeding program !
Nova is a puppy from our litter C. She did not leave like other puppies at 8 weeks, but stayed with us a bit longer and we watched her beautiful character form and rejoiced at her games with her mother Charena and the rest of our pack. Lisi was her extra mom too. Currently Nova lives in Stockholm and her mistress Katarina gave her a wonderful upbringing. She is well socialized and accompanies her family to any events. Very friendly and very beautiful bitch. We are very grateful to Katarine for the opportunity to use Nova in breeding, since Charena, one of the most successful and anatomical females, has not a single descendant who went into breeding.
If you wish to get the Rhodesian Ridgeback puppy from us, would you please answer some of our questions here . Thank you.
Despite the fact that the questionnaire is in English, you can also reply in Swedish
Trots att frågeformuläret är på engelska, får du gärna svara på svenska