(The older posts below)

each colored square is an active link to the puppy page with the corresponding collar color
1. female correct rige black nose (red collar)
2. male correct ridge liver nose (lilac collar)
3. male correct ridge liver nose (blue collar)
4. male correct ridge black nose (white collar)
5, male correct ridge liver nose (green collar)
6. female correct ridge black nose (silver collar)
7. female correct ridge black nose (orange collar)
8. female correct ridge black nose (yellow collar)
9. male correct ridge liver nose (pink collar)
10. male ridgeless liver nose (brown collar)
11. female correct ridge black nose (indigo collar)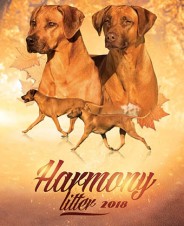 h-delivery. 28-30 jan 2018
we expected puppies to be born on New Year's Eve. But, since there was a lot of them, birth started already on December 28th and lasted until 30th. As a result, the bitch had 15 bubbles. the first born completely mutilated puppy. His eyes were open and skull was crumpled. He was alive but very weak, He did not live a few hours. (1st but 0) We were very upset and depressed by such a beginning, but at noon Lisi gave birth to a beautiful girl with a black nose. (№1 here but second) She got an red collar. Then 2 males with liver noses were born quite consistently and painlessly. 14-45 an 15-15.
(at us № 2 & № 3 but 3d and 4th),
After an hour interval two more very small males were born. (16-16 and 16-30) first black nosed then liver. (N4 and N5 but actually 5th and 6th)
The 7th bubble was a big girl with a black nose and only single crown on her ridge. She got an silver collar (№ 6 in our site but 7th) at 16-49.
Our №7 (8th) is blacknose bitch with orange collar. she was born 18-20 very beautiful one.
After two hours (20-20) Lisi gave birth to another black nosed bitch she is now with yellow collar and Nr 8 ( 9th).
Then we had a pause of 5,5 hours because the next one was still born. At 2 a. m. the 29th of december 10th puppy was born: a big dead livernose bitch without a ridge. It was the first ridgeless puppy in this litter. (10th)
At 4 a very weak male was born with difficulty breathing. (11th) got a black collar. For his life we fought for a day, but his lungs did not open up and he lived only 24 hours and, to our great chagrin died.
At 6-24 we ve got a male without ridge with liver nose. A strong one he got a brown collar. (nr 9 but 12th)
Our nr 10 (13th) is correct liver nosed male got Pink collar
and the last alive puppy was a girl with black nose Indigo collar. NR 11 ( 14th) at 14-46
we were sure she was the last one but i midntt från 29 to the 30th of dec came still born bith livr nose ridged. (15th).
It was the hardest birth we ever had and delivery took so long time but i think ir is very beautiful litter with the nice statistic too.
We could never manage to handle all this process without Kristina Rense who helped us much all the way. Thamk you my dear friend for that.
Harmony diary
| | | |
| --- | --- | --- |
| Heat started | 11 Oktober | |
| mating 1 | 28/10 | |
| mating 2 | 29/10 | |
| | | |
| | | |
| | | |
| | | |
| föddelse | 28/12-2018 | |
| valpleverans | 28 /2-2019 | |
| | | |
| | | |
| | | |
| | | |
| | | |