(The older posts below)

These colored squares are links to individual pages of puppies:
31/7. Puppies at the beach
26/7. The last stack shooting at home
Lure coursing for puppies.
Fortuna puppies had fun activity today run after lure with the great pleasure at our own garden.
7th week Fortune puppies.
stack photos 1 month age by Sveta Moroz
Our visitors were pleasantly surprised that the puppies are very self-confident! MFs took several families at the same time. Everyone came with adult ridgebacks. Dogs rustled flying helicopters, we moved furniture, making room for photography. puppies were not raised and all they had was on schedule eaten they played

The doors opened and a stream of guests reached us in the house! Everyone wants to play with the puppies. Our visitors were pleasantly surprised that the puppies are very self-confident! We took several families at the same time. Most of them came with adult ridgebacks. So noisy we had over the weekend: Dogs burking , helicopters flew, we moved furniture, making room for photography but the pups did not experience any stress, and they had everything on schedule, and they played they ate and they slept.
Puppies learn at great speed and develop very rapidly. They display all behaviours of an adult dog. Biting baying growling showing teeth perfoming prey and fighting games, carrying objects, "killing" prey, etc. They lern to control the strenght of their bite during their games by feeling the sib's response to their bite. They need lots different stimull which includes plauing with human and children. Now all of you are welcome to visit puppies!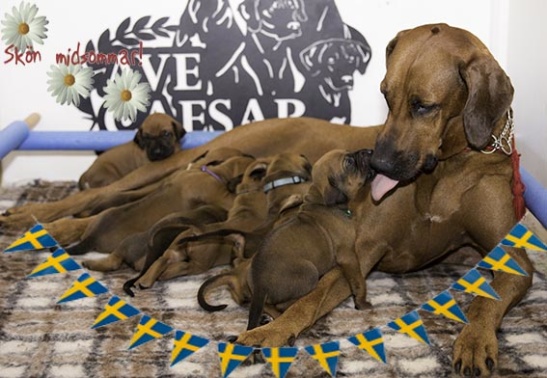 All puppies grow up and spend more time in the air. We have a big holiday in Sweden and we made a new photo session in Midsommar style. Age 3 weeks. Both parents was with puppies at their outing.
As a rule, we do not accept visitors before the puppies reach the age of 4-5 weeks. But always make an exception for the closest. The pups had Kerstin Larsson, who leads our Ave Caesar branch. She did a laser procedure for the puppy's tail, then there were the children Vincent and Annie and finally our close friends and colleagues Emoyeni's RR Susan and Peter Falk who examined the puppies for dermoid sinus and cut their claws.
Sandy and her puppies third week.
2 weeks age individual photos and we started our 3d week.
Sandy and her puppies second week.
We started this week from personal photo of every pup.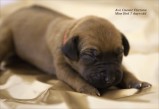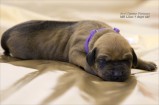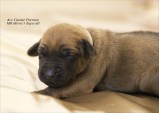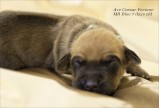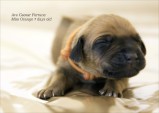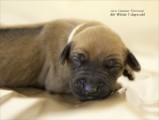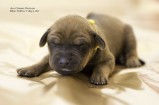 Sandy is wonderful mother and she take very good care of puppies. They all growing and soon will double their birthday weight, Sandy started longer walks with pleasue compare with two first days when that was imposible.she is eating with a good aptit and started to play with other adult RRs outside the house where her puppies are.
4/6. Puppies got their own pages here.
All puppies developing well and all feel good. Sandy is just PERFECT mom both careful and understanding. It is possible to get her out for a while but the rest of time it just puppies. She even bows her head to listen to the shades and nuances in their squeak.
Sandy gave birth puppies.
The long-awaited and desired event occurred at exactly the scheduled time. Our Royce became the father to the beautiful litter of Fortune. Clever beloved Sandy gave birth to 8 puppies in a short time and without any complications. The birth began at 7 pm and by 11 on the same day we were all in the seventh heaven with happiness. Sandy made fantastic job and now showing her like a perfect mother: careful and gentle. All puppies has ridges, all with black noses. One girl has a small kincked tail.
19-15 first girl red 450 g
19 38 The second boy purple 505 g
19-50 The third blue guy 410 g
21-30 fourth white boy 420 g
22-10 The fifth green boy 400 g
22 - 50 the sixth boy silver 450 g
23-00 seventh orange girl 455 g
23-20 the eighth girl yellow 415 g. (litle kincked at the end of her tail)
All are healthy and beautiful.
Just married Royce x Sandy
temperatur: 24 - 37,5; 31/5 - 37,4


14 mars 2018 Sandy started her heat
21 mars i met Sandyand took her with me to Sweden.
23 mars Royce and Sandy met each other
28 mars progesterone test showed 1,58
--------------------------------------------------------------------
31 mars the first mating held place 27 minuts late in the evening
1 apr
2 apr
3 apr nr 6 24 minuts
______________________________________________________________
26 apr Ultrasound confirmed pregnancy. (day 27)
25 maj X ray showed 7 puppies
26 maj HVC vacin
1 juni gave birth at 7 p m the first puppy and finished with the 8th at 11:30 the same evening.