The 7th of FebruaryLisi gave birth 4 beautiful puppies ! Diary of the litter you will find HERE (or you can click om the image of the book to the right.►

We proudly present litter's parents: LISI and LEX . The pedigree contains a host of celebrities from the Ridgeback world .
This litter we have together with RoyaltyRocks kennel and it's leader Tina Gavling.
Saimons Praide Ecstasy of x Emoyeni`s Grand Zuberi
Felicity *LEX*
INTERCHAMPION C.I.B
Europa Winner -2016
Benilux Winner -2016
Brussel Winner - 2016
Eurasia Prizewinner-2015
Swedish Blood track champion
Show CHAMPION of Sweden
Show CHAMPION of Denmark
Show CHAMPION of Norway
Nord show Campion
CHAMPION of Serbien
Champiom of Russia
Champion of Chech Republic
Champion of Germany (not confirmed yet)
Candidate to champions
San Marino (2 CAC)
France (2 CAC)
Slovakia (2 CAC)
Poland (1 CAC)




Owners : Elena & Wily Johansson.
Breeding rights Ave Caesar kennel.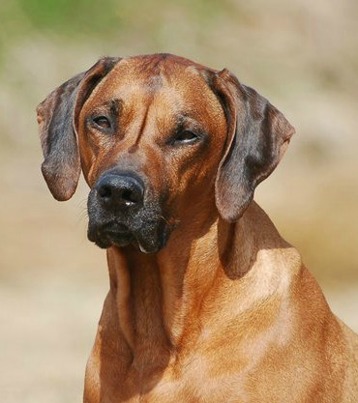 World Winner -2008
Swedish champion
Norwigian Champion
Danish Champion
Finish Champion
Nordic show champion
Nordisk utställningschampion
International Show Champion
Swedish Bloodtrack Champion
Svensk viltspårschampion
CV(ROM)
LP1
BM at Swedish annual Speciality Show 2007
Copenhagen Winner 2009
Nordic Winner 2009
Top swedish Show male 2009
Top Swedish blood track male 2009
Finish Winner 2010
Best in Show veteran at My Dog 2011
Best in Show veteran at SRRS-Västras rasspecial 2011.
Best in Show veteran på SRRS-Västras rasspecial 2012.
Best Mover Winner at BISS-2012
Owner: Tina Gavling
Breeders Susan Johanna and Peter Falk.

LEX
Emoyeni`s Grand Zuberi


NORD INT DK EE UCH
Mankoya's Great Gambo
FIN AMUCH FINV-00 VV-00 IV-0
Ikimba Shadyridge Okoa

SA CH Apalachee Umqolo Of Pronkberg
Dahari Dafina
NORD UCH
Mankoya's Claudia
S N UCH
Fudo-daruma
UCH
Parih's Eileen-phoebe
S UCH
Zawadi Zumaridi Johari
AU CH
Skiska Solitaire Jest
UST CH
Amashutu Ancre

Skiska Nyala

AU CH Mzilakazi Copper Gem
GB CH N S UCH Jespah Alekzandr Of Janak
AU CH Mzilakazi Calamity Jane
LISI
Saimon's Praide Ecstasy Of Felicity


BG CH BY CH RU CH
Sunhill Ridges Apollon
LT CH RU CH SL CH
Karoskloof Gizan Buka
Roodedraai Doukisa
Karoskloof Mack's Zandili
RU CH
Tina Trading Ornella
RU CH
Heshima Ya Kimba Fuku Shabalala
Tina Trading Nicole
BG CH MD CH RO CH RU CH
Saimon's Praide Bashihma Bayo
BG CH MD CH ME CH RO CH RU CH
Saimon's Praide Zebenjo Nyasa Shoko
RU CH
Harjaselan Mustapekka
BY CH INT UCH RU CH
Arnika Pleasure Iz Garema Valeria
Atlant Kordiall Esh-Shergi
Stone African Alex
RU CH
Atlant Kordiall Selva Safari
More about Sire of our Litter.
Thank you Tina you let us use your wonderful Lex . It is a grat honor for our kennel and a great responsibility too. We hope Lisi and Lex will mach perfect and give us a puppies worthy their parents
You can read about Lex at Royalty Rocks web site.
And you can find info at breeder's web at FB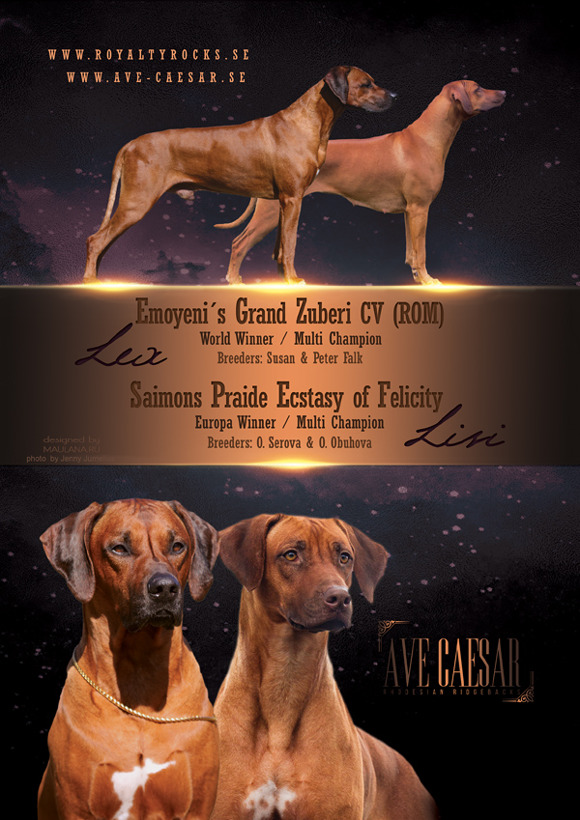 If you wish to get the Rhodesian Ridgeback puppy from us, would you please answer some of our questions here . Thank you.
Despite the fact that the questionnaire is in English, you can also reply in Swedish
Trots att frågeformuläret är på engelska, får du gärna svara på svenska