=JORNAL= (in form of blog. Older news below)
22/5 Open show in Sweden.
17/5 Our Bazze has his great result of joints X-ray
we are glad that our young male Bazze has taken another step towards becoming a stud dog in the future. We tested his joints and they are of excellent quality. HD:A/A ; ED: 0/0!
The veterinarian also gave a written confirmation regarding his testicles and the presence of all teeth and correct bite. Only mental test left to do and we are looking forward.
8/5 International Show SAMARA (Russia).
At double int. dog show Basinda got two CACIB and also two adult CAC. She won BEST of BREED fitst day and also won BEST in GROUP! We are so happy wish such a great sucsess!
8/5 BPH day for 3 Ave Caesar males.
1-2/5 Eurasia 2020 and Eurasia 2021.
Basinda took part at two international dog shows. First day in Junior class and she won class what made her junior champion of Eurasia-2021 and second day at intermediate class and she won class with her first aduld CAC. Congratulations to her hanler and co-owner Sveta Moroz!
18/4 Puppies Mars Venus have moved to their new families.
20-21/3 Two international dog shows in Russia.
BASYA
Ave Caesar Carnelian Jewel By Royce
first day:
won class and got her new titel Junior Breed Champion!
then she's been showed among all adults inclusive of champions and won Best of breed in spite of her yong age! And at Junior best she won BIS-3 among over 200 juniors! WOW!
Second day she managed all the way but BOS at the end! So proud of her and Sveta too!
Congratulations to her handler Sveta Moroz who also is Basja co-owner with us! It is such pleasure to see how Basya LOVES to work with you and enjoy to be in the ring! BRAVO our beloved girls!!!
13/3 Mental test BPH för Misty.
6/3 Puppies re-union with blood-tracking.
21 Feb. Mars & Venus litter arived!
The 21st of feb Rubi (Elangeni's Friends In Hi Places) gave birth 10 beautiful puppie 4 males and 6 females. All with ridge, one female has extra crowns. All black nosed. They came at day light what we are thankfufull Rubi for. Happy father is our Nash (Ave Caesar great Galaxy. ) All babies developing well. Rubi is so calm and take care of her puppies very well. Can't wait to see them older)
27 Feb. LIFE litter moved to their families!
2 Jan. LIFE litter arived!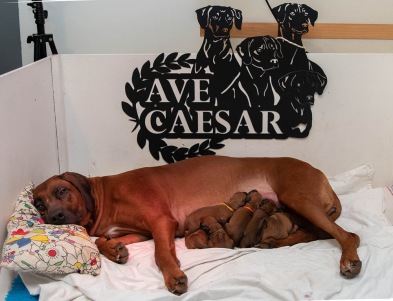 Please join us in welcoming Ave Caesar "LIFE" litter after Echo out of Lillie. 10 beautiful puppies, of which 6 females and 4 males. Lillie is doing a great job as a mom, and takes perfect care of her little ones. All 10 are healthy and strong
Once we had a dream to have a litter between our beloved Lisi and Dorothy's Mak, that dream was not destined to come true, but this dream has come true now in the form of a puppies between Lisi's granddaughter and a Mak's grandson
Big THANK to family Florell-Berg for the trust for all support and for let us use your wonderful Echo! You are amazing! And BIG THANK to Lillies family
Jenny Lander and Co for the trust and that you are right by our side and for being the persons you are! BIG THANK for Kristina Rense for your kindness and for your competence and for the fact that you are always there at such important hours of life as the birth of a new life!
Here is litter diary.