=Dagbok= (in form of blog. Older news below)
«TOP DOG 2017» by THE EUROPEAN RIDGEBACK MAGAZINE
Our beloved RR team are all in top 5!
* Lisi C.I.B.Nord Ch EUW-16 MCh. Saimon's Praide Ecstasy Of Felicity For Ave Caesar confirmed her superiority after was awarded Top Swedish RR-17 got now Top European Female -17
'Royce MCH Biss-17 Ave Caesar Drive I Am Your To Keep 3d male
* RUBI JPW'17, JChPT jNW-16 Elangeni Friends In Hi Places top junior female 17
• WELLA Saimon's Praide Welcome to Ave caesar 3d puppy
Our thousands of kilometers of roads a large number of countries 49 shows. It was a year of unprecedented adventures and all sorts of emotions. We got a decent merit in the form of a double Top for Lisi and excellent results for the whole team!
We want to thanks our breeders:
Oksana Serova (Lisi and Wella)
Linda Friedland (Rubi)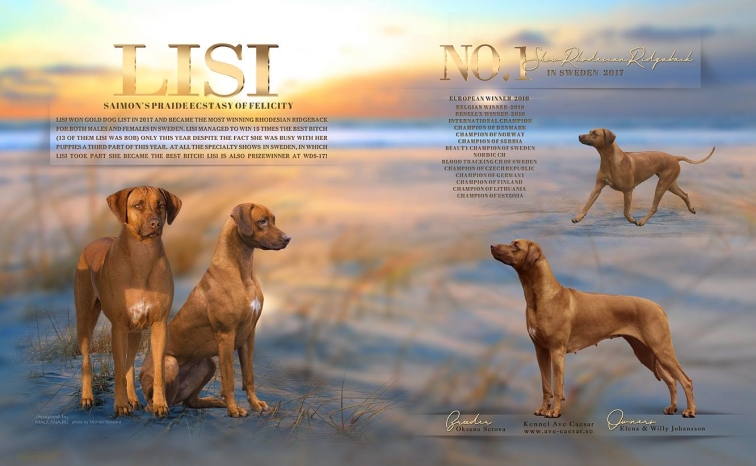 Specialist-chiropractor with great experience and excellent reputation visited us with the purpose to check every dog and, if necessary, fix something. Finn talked a lot about the need to have control over the body of a dog. He was loved by every dog and showered with kisses.
Kandy and Naya's puppies expecting at Hazina's !
With great excitement we expect a happy event in our chief ridgeback's life. You will find more all info at Kennel Hazinas web site.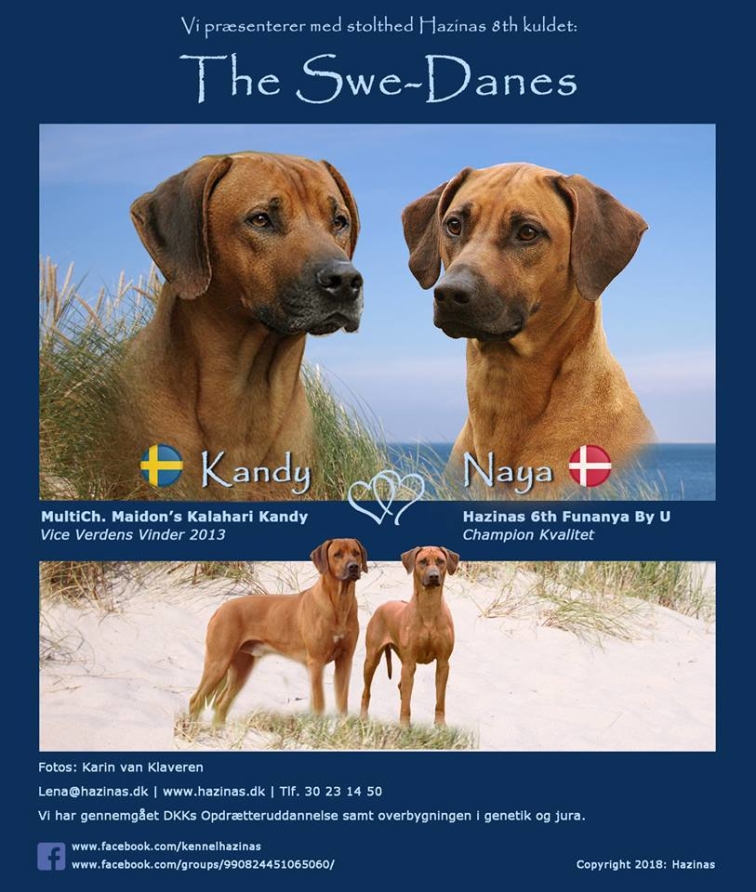 12/1-18. The whole pack happy of snow.
5/1-18. My Dog-2 FCI int show.
Judge: Martin Johansson . Entries 66
*HAPPY * Ave Caear Born To Be Happy» Excellent 1 in open with CQ 2Best Male, R-CERT, CACIB.
*ROYCE * Ave Caesar Drive I Am Your To Keep 2nd in champion class with CQ.
*DUBA * Ave Caesar Driving Me Onwords» Excellent 2 with CQ 3d best female res CAC.
Our bitches:
Wella *Saimon's Praide Welcome to Ave Caesar 4 of 5 in puppy class with HP.
Rubi * Elangeni Friends In Hi Places AI excellent 3
Lisi *Saimon's Praide Ecstasy Of Felicity Ex 3 CQ 4th Best female
Very proud! And very thankful to the owners!!!
Thank you to Helena Wrede for wonderful photos!
4/1-18. My Dog-1 Nordic show.
Ave Caear RR kennel was was represented by 5 dogs in the catalog, but only 3 in reality. Judge Jim Black (Australia) .
*HAPPY * Ave Caear Born To Be Happy» 3d in open with CQ
*ROYCE * Ave Caesar Drive I Am Your To Keep won champion class with ck and became 2nd in Best males ring with res Nordic.
IRIS * AVE CAESAR Enjoy Eternal Love * Show debuted in junior class was short She felt uncomfortable and we alla involved decided to wait and prepare better. She has got KEP. (Can not be judged)
DUBA * Ave Caesar Driving Me Onwords» Excellent 3 with CQ.
Our bitches:
Wella *Saimon's Praide Welcome to Ave Caesar 5 of 5 in puppy class.
Rubi * Elangeni Friends In Hi Places AI excellent 3 CQ
Lisi *Saimon's Praide Ecstasy Of Felicity CW Ex 1 Nord CAC Best Of Breed and res Best In Group -6