=Dagbok= (in form of blog. Older news below)
We had a very pleasant meeting with some of our "puppies" and their families. Thank you all for nice walk . RRs were making whoopee all the time and we all had fun.
9/4. Happy 3th Birthday to our Celebration litter
Wonderful Titi-Charena kids. On the pictures are:
* Ajax * Ave Caesar CREAM OF THE CROP (with his mom on the picture)
*Bruno * Ave Caesar CUT OUT TO BE WINNER (with his husse Thomas and breeder Willy)
* Zico * Ave Caesar Carrying a Torch
* Charis * Ave Caesar Case In Point (with his matte Helene)
* Lexus * Ave Caesar Cos' I AM THE ONE
* Freja * Ave Caesar Come Fly With Me (With her matte Georgiana)
* Nova * Ave Caesar CENTER OF MY UNIVERSE (With Elena Johansson)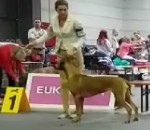 MCH Ave Caesar Driving Me Onwards 29 months old has got her 20th CACIB and a new titel Luxembourg champion today! BOS! We are more then proud of our Livernose princess! Congratulations to Marjolein!!
7/4. Sundsvall NDS. TWO CHAMPIONS!
Judge John Sigve Berg. Happy (Ave Caesar Born To Be Happy) Ex with CQ and second Best Male with CAC= SWEDISH CHAMPION! Wella (Saimon's Praide Welcome To Ave Caesar) Very good at junior class and 4th junior. Rubi ( Elangeni Friends In Hi Places) Ex-1 with CQ and second best bitch with her 5th swedish CAC= champion of Sweden what makes her champion of Finland and Lithuania too!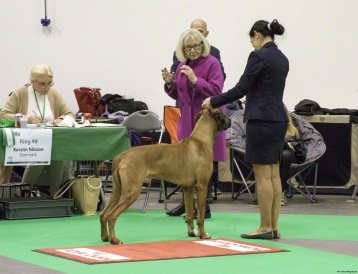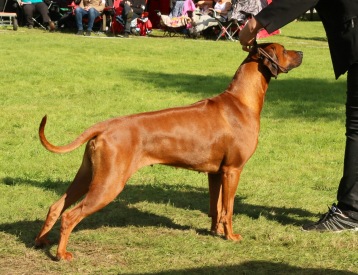 31/3. Malmö IDS plus shows around the Europe
First the result of Ave Caesar RR girls from shows around Europe:
1. Ave Caesar Driving Me Onwards *DUBA*
At IDS Goes Netherlands Judge S. Nordin (Sweden) DUBA Best female BOS CAC CACIB wich made her interchampion! Congratulations to Marjolejn!!!
2. Ave Caesar Enjoy Every Moment *HULDA"
at IDS Finland Judge: Paavo Mattila (FI) JUN1/2 CQ BB1 CAC BOS!!! Fantastic! Congratulations to Kaisa Kosonen!!!
3. Ave Caesar Born To Be Happy * Happy*
At IDS Malmö (SWE) Judge: Sifie Krigholm Happy EXC 4 Open class
4. Ave Caesar Drive I Am Your To Keep * ROYCE* EXC, 2, CK, 2BH, R-CACIB
and our girls:
Saimon's Praide Welcome To Ave Caesar - EXC, 4 junior class
Elangeni Friends In Hi Places (C) - EXC, 4 at Open class
Saimon's Praide Ecstacy Of Felicity - EXC, 2, CK 5th BB
Happy 4th Birthday to our Blessed-litter.
18/3. Duba made all news!
We are on the top so far.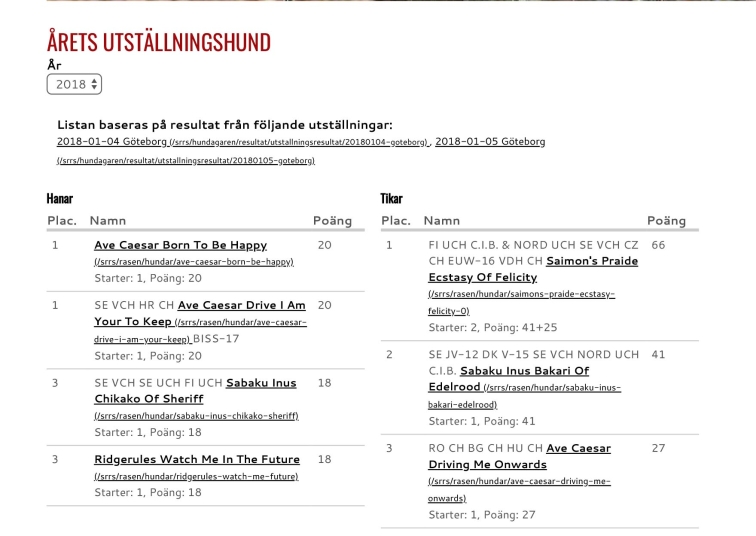 10/3. Club show RR Denmark
Judge: Vanessa Moyano Gonzalvez, Spanien
Our team took place at club show Bilund, Dk.
Royce - res. best male
Rubi - res. best female
Wella- ex-4 junior.
9/3. CRUFT's -2018. DUBA is res. BEST BITCH!
The biggest show in the world. CRUBT's. Judge : Lindsey Barnes . Entries: 216 RRs
multi CH Ave Caesar Driving Me Onwards *Duba* turned res. bitch CC at CRUFT this year ! Many congratulations to her entusiastic owner Marjolejn! We are VERY PROUD!!!
Sandy is hopefully dam to be to our next litter. We congratulate her with 3d BD and wish her to come to us as early as she can and we will get a possibility to give all our presents and LOVE!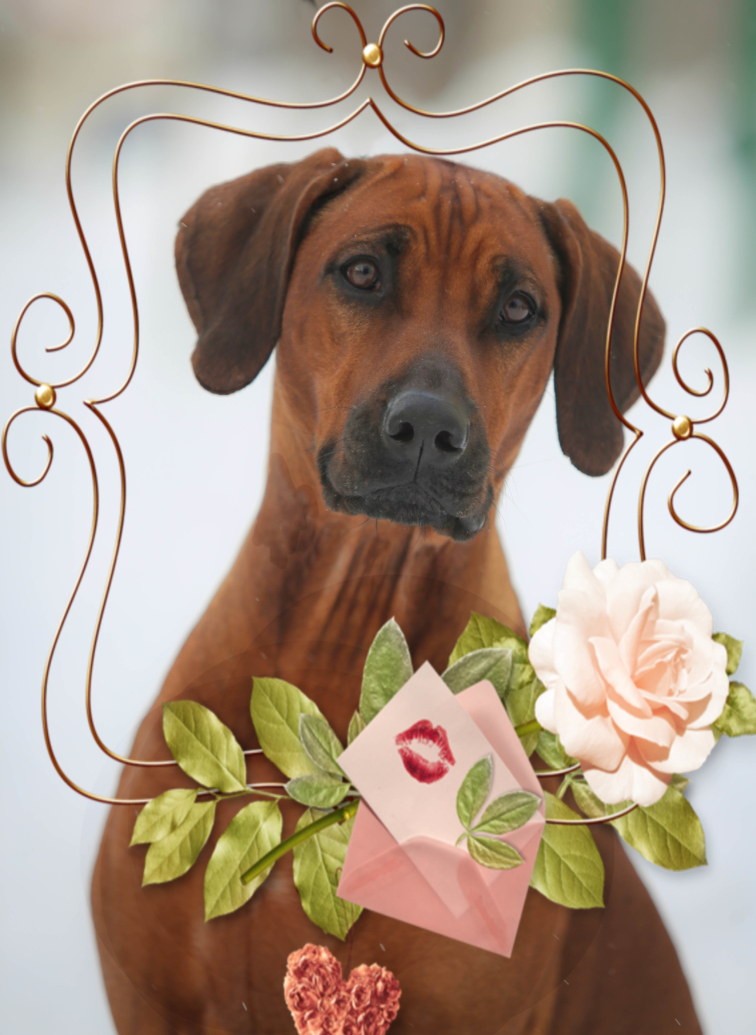 17/2. winning day at Nordic Bö, Norway.
Fantastic day at Nordic show Bö!!
Judge Eva Jönsson , SE
Happy won open class
Royce won champion class with CQ
Rubi won open class with CQ L
Lisi won champion class with CQ
And as you see Lisi and Royce won BOB and BOS!! Both with NORDIC CAC!!!
16/2. "Australien " Birthday RUBI
Rubi's BD is the 17 of february) but because of time different between her homeland Australia and Sweden we started to celebrate Rubi's BD when we still had the 16 here in Europe))) And because of Rubi's BD was in hot days we use summer picture of Rubi to make her BD card! Thank you my dear family Friedland Linda & Dadyl and Emma for our gem! Rubi gave us love every single day!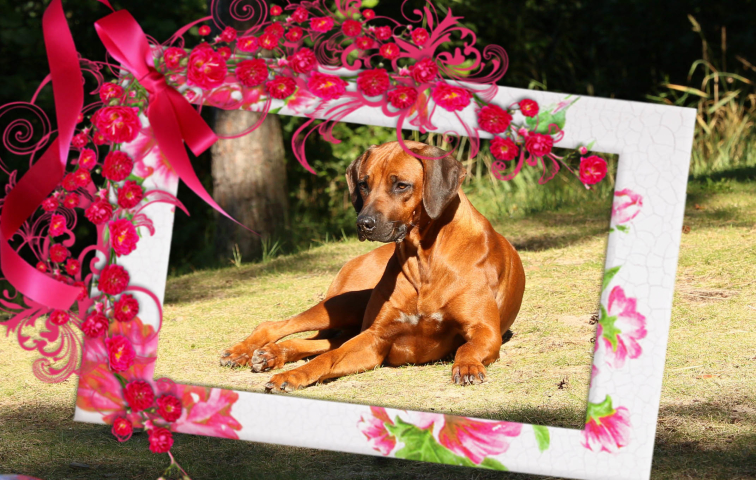 10-11 feb. Duba's succsess at Slovakia.
Both days at Nitra shows our team Marjolejn & Duba (Ave Caesar Driving Me Onwards) got BEST FEMALE! Judges were: Thibor Havelka at saturday and Jozef Jurza (Hungary). Now this amazing bitch has already 16 CACIB but still too young for international champion! We are over the moon!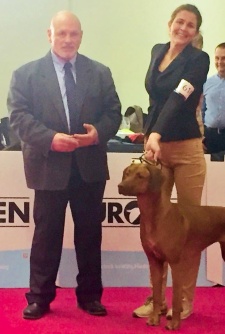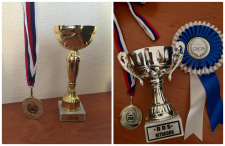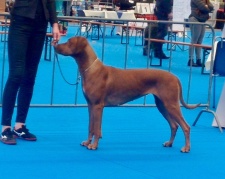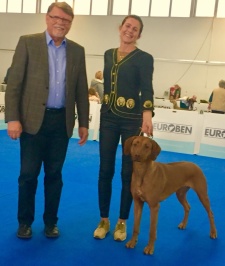 7/2. Our "Enjoy -litter celebrated their 1st Birthday!
Hulda! Iris! Konsta! Loke! Our beautiful quarte are one year old today! Happy Birthday yp you!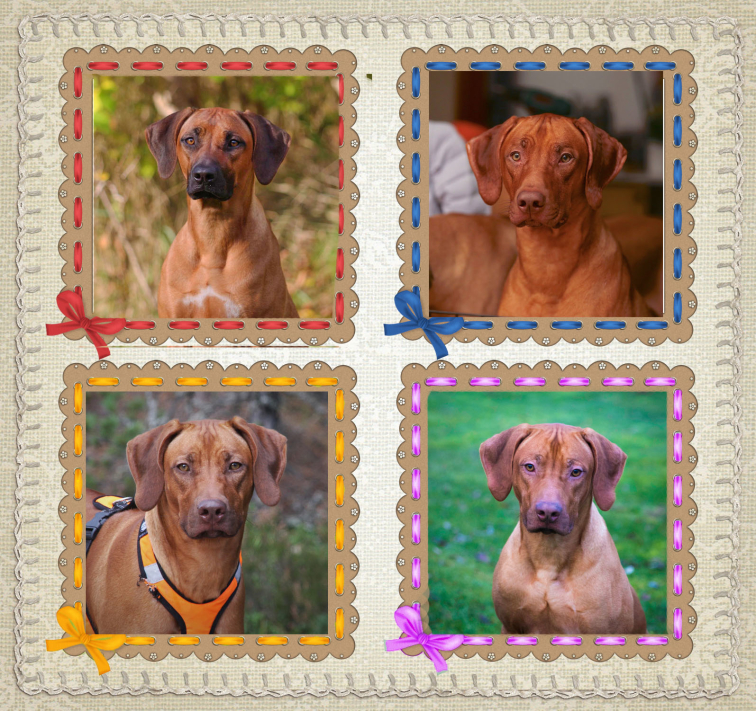 28/1. Duba's succsess in Italy
«TOP DOG 2017» by THE EUROPEAN RIDGEBACK MAGAZINE
Our beloved RR team are all in top 5!
* Lisi C.I.B.Nord Ch EUW-16 MCh. Saimon's Praide Ecstasy Of Felicity For Ave Caesar confirmed her superiority after was awarded Top Swedish RR-17 got now Top European Female -17
'Royce MCH Biss-17 Ave Caesar Drive I Am Your To Keep 3d male
* RUBI JPW'17, JChPT jNW-16 Elangeni Friends In Hi Places top junior female 17
• WELLA Saimon's Praide Welcome to Ave caesar 3d puppy
Our thousands of kilometers of roads a large number of countries 49 shows. It was a year of unprecedented adventures and all sorts of emotions. We got a decent merit in the form of a double Top for Lisi and excellent results for the whole team!
We want to thanks our breeders:
Oksana Serova (Lisi and Wella)
Linda Friedland (Rubi)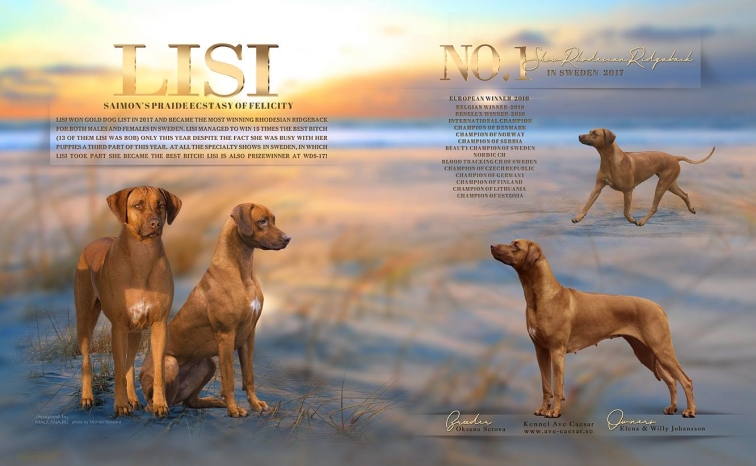 Specialist-chiropractor with great experience and excellent reputation visited us with the purpose to check every dog and, if necessary, fix something. Finn talked a lot about the need to have control over the body of a dog. He was loved by every dog and showered with kisses.
Kandy and Naya's puppies expecting at Hazina's !
With great excitement we expect a happy event in our chief ridgeback's life. You will find more all info at Kennel Hazinas web site.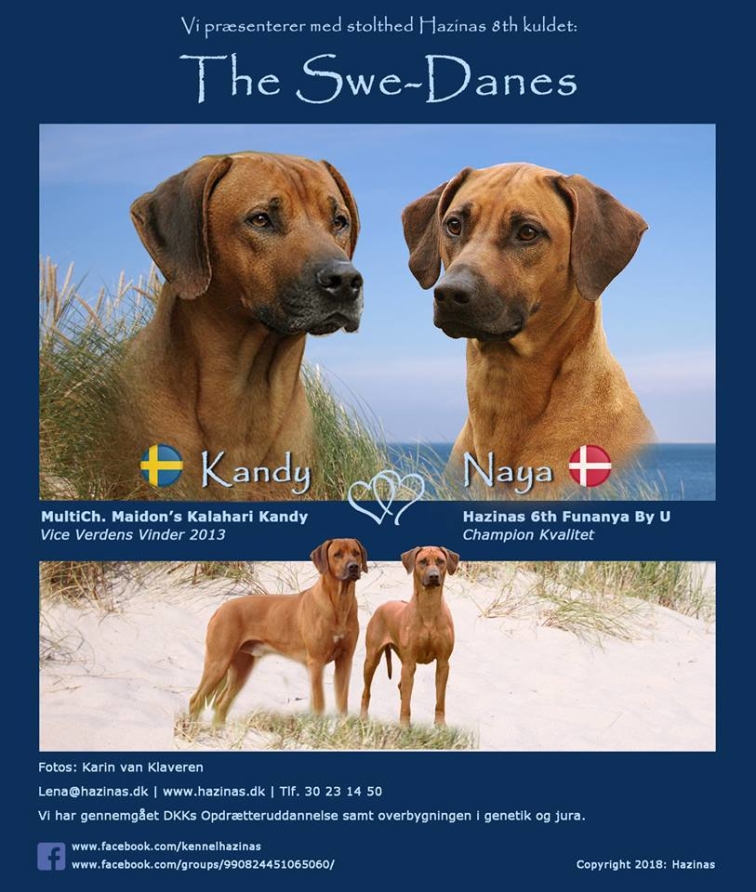 12/1-18. The whole pack happy of snow.
5/1-18. My Dog-2 FCI int show.
Judge: Martin Johansson . Entries 66
*HAPPY * Ave Caear Born To Be Happy» Excellent 1 in open with CQ 2Best Male, R-CERT, CACIB.
*ROYCE * Ave Caesar Drive I Am Your To Keep 2nd in champion class with CQ.
*DUBA * Ave Caesar Driving Me Onwords» Excellent 2 with CQ 3d best female res CAC.
Our bitches:
Wella *Saimon's Praide Welcome to Ave Caesar 4 of 5 in puppy class with HP.
Rubi * Elangeni Friends In Hi Places AI excellent 3
Lisi *Saimon's Praide Ecstasy Of Felicity Ex 3 CQ 4th Best female
Very proud! And very thankful to the owners!!!
Thank you to Helena Wrede for wonderful photos!
4/1-18. My Dog-1 Nordic show.
Ave Caear RR kennel was was represented by 5 dogs in the catalog, but only 3 in reality. Judge Jim Black (Australia) .
*HAPPY * Ave Caear Born To Be Happy» 3d in open with CQ
*ROYCE * Ave Caesar Drive I Am Your To Keep won champion class with ck and became 2nd in Best males ring with res Nordic.
IRIS * AVE CAESAR Enjoy Eternal Love * Show debuted in junior class was short She felt uncomfortable and we alla involved decided to wait and prepare better. She has got KEP. (Can not be judged)
DUBA * Ave Caesar Driving Me Onwords» Excellent 3 with CQ.
Our bitches:
Wella *Saimon's Praide Welcome to Ave Caesar 5 of 5 in puppy class.
Rubi * Elangeni Friends In Hi Places AI excellent 3 CQ
Lisi *Saimon's Praide Ecstasy Of Felicity CW Ex 1 Nord CAC Best Of Breed and res Best In Group -6