=JORNAL= (in form of blog. Older news below)
2 Jan. LIFE litter arived!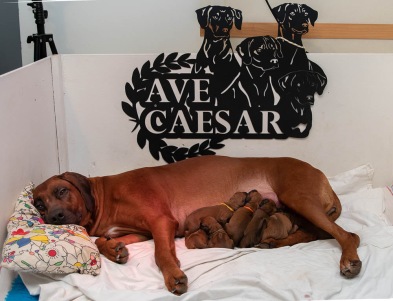 Please join us in welcoming Ave Caesar "LIFE" litter after Echo out of Lillie. 10 beautiful puppies, of which 6 females and 4 males. Lillie is doing a great job as a mom, and takes perfect care of her little ones. All 10 are healthy and strong
Once we had a dream to have a litter between our beloved Lisi and Dorothy's Mak, that dream was not destined to come true, but this dream has come true now in the form of a puppies between Lisi's granddaughter and a Mak's grandson
Big THANK to family Florell-Berg for the trust for all support and for let us use your wonderful Echo! You are amazing! And BIG THANK to Lillies family
Jenny Lander and Co for the trust and that you are right by our side and for being the persons you are! BIG THANK for Kristina Rense for your kindness and for your competence and for the fact that you are always there at such important hours of life as the birth of a new life!
Here is litter diary.